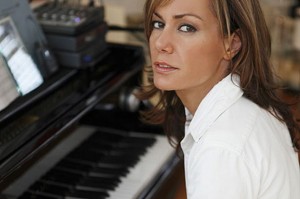 Tara Palmer-Tomkinson flew into a rage this past weekend while at Heathrow Airport, subsequently being handcuffed and arrested by eight armed police officers. She was seen gesticulating, at officers swearing at them while being questioned about her behaviour. At one stage, she was even seen tearing out her hair extensions, leading to speculation that the troubled star may once again be using drugs.
Palmer-Tomkinson has battled drug and alcohol addiction for many years, having first received treatment for an addiction to cocaine back in 1999. She was a regular face in the newspapers during the nineties for her wild partying ways and apparent drug taking escapades. In 2006, pictures of her collapsed septum were splashed all over the front pages of various newspapers, which was blamed on her £400 a day habit. The socialite spent £6000 on reconstructive cosmetic surgery to have her nose fixed and attempted a career change in 2012 by releasing a single. However, her attempt at pop stardom was not successful.
Talking About Recovery
Earlier this year she appeared on The Jeremy Kyle Show, giving a frank interview on her battle with addiction and her recovery, hoping to encourage other addicts to get help. During the interview, she spoke of her lowest point at which she almost died from a cocaine overdose, and how she now felt like a recluse, afraid to go out. Palmer-Tomkinson also spoke of how the addiction caused her to develop psychosis and made her 'devious and deceptive and deceitful.'
She was incredibly lucky to have such a supportive family, who sent her to an Arizona rehab facility at a cost of £35,000 at which she says she learned humility. She told the talk show host that she is no longer using drugs and does not feel any temptation towards them anymore. Her greatest problem these days is anxiety, which is causing her to fear going out. However, not everyone can afford to spend £35,000 to get 'clean'; at Addiction Helpline, we can help you find the right treatment option for your circumstances.
Coping with Life after Recovery
Tara Palmer-Tomkinson's story is familiar for a lot of recovering addicts. Anxiety is common for those who have been through an addiction and are now in recovery. In addition, it is common for recovering addicts to want to stay indoors and avoid going out for fear of a relapse. The truth is that relapse is always going to be a risk for former addicts but, the longer a person has been in recovery, the less the chances are that this will happen. Most relapses occur within the first few weeks or months after a rehabilitation programme.
It can be tough to move from a rehabilitation programme to normal life so anxiety is always on the cards. Nevertheless, with the support of family and friends, staying clean is a real possibility. It is also great to have support from external sources – at Addiction Helpline, we offer support throughout your journey. We are always here to listen to any problems you may have and to answer your questions. Our trained counsellors will offer advice and support when you need it and will assist in any way we can.
From taking that initial call to getting you the help you need to leaving rehab, we are here to support you every step of the way.
Source:
http://www.mirror.co.uk/3am/celebrity-news/tara-palmer-tomkinsons-troubled-life-drugs-4852216