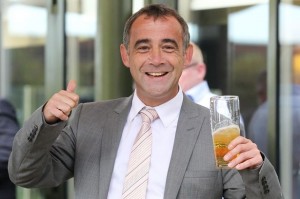 Michael Le Vell is best known for playing the character Kevin Webster in the UK hit soap Coronation Street. He made his first appearance back in 1981 as a paperboy called Neil Grimshaw, later reappearing as Kevin Webster, one of the main characters in the show. Michael Le Vell says that playing Kevin is the best job in TV; however, his life has been far from perfect – he has had some legal troubles in recent years, as well as admitting to being an alcoholic.
Hard Drinking Life of Michael Le Vell
Michael Le Vell admitted to drinking up to 12 pints of lager a night. The 48-year-old actor can be described as a high functioning alcoholic as he has managed to remain successful in his career despite his addiction. This ability to hide his problems is beginning to unravel though, and his drinking is now starting to damage his reputation and opportunities. He has been offered £500,000 to appear on the hit reality show I'm A Celebrity…Get Me Out Of Here! This is a great opportunity for the actor to 'right a few wrongs', but this chance, as well as the chance to make a huge sum of money, is in doubt now because the makers of the show will only accept him if he is willing to stop drinking.
Kevin Kennedy is another Coronation Street actor who has battled with alcohol problems – he played Curly Watts in the show for two decades. Curly was one of the most loved characters on the show, but he admitted that he used to drink a bottle of vodka each day before appearing on set. He finally managed to break away from alcohol after the makers of the show talked him into attending alcohol rehab. Kevin managed to rebuild his life following addiction and now wants to help Michael Le Vell to do the same. Kevin Kennedy is in a great position to do this as he now runs his very own addiction clinic.
Can Michael Le Vell Be Coerced Into Getting Help?
Michael admits to having a drinking problem, but he has not shown much motivation to deal with the problem in the past. He seems confident of his ability to maintain his addiction without it interfering with his life, which is a very common attitude among high functioning alcoholics; this is why it can be so difficult to get them to stop. It can take a lot to get beyond this level of denial and sometimes trying to coerce a person into getting help can backfire because they may become more resistant.
Kevin Kennedy was talked into getting help for his addiction problems; he knew if he didn't get help, he would end up losing his job on Coronation Street. This intervention worked out really well and hopefully this latest challenge from the makers of I'm A Celebrity…Get Me Out Of Here! will have a similar impact on Michael Le Vell.
How Will Michael Respond?
When alcoholics are faced with this type of challenge, they usually respond in one of two ways. If Michael is still dealing with a high degree of denial about his situation, he may decide that people are being unfair. He could even make the decision to miss this great opportunity because of his resistance to this attempt to control his life. Hopefully, he will see this as a wakeup call and will get the help he needs to break away from addiction. That way he will not only be greatly improving his future, but he will also be starting it off nicely with half a million pounds in the bank.