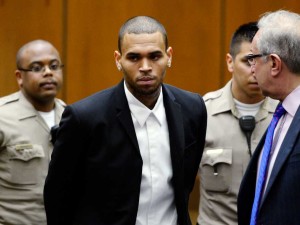 It seems that Chris Brown has made some real progress since entering rehab a month ago, but last Friday (28 February 2014) a judge decided that the singer needed to spend another two months in the programme. Chris could have easily ended up in prison for breaking the nose of a fan who only wanted to have his picture taken with the star, so spending another couple of months in a luxury rehab isn't too bad of a deal. The hope is that during the stay in this facility, Chris Brown will be able to overcome his drug problems as well as learn to control his temper.
Addiction Problems of Chris Brown
Chris Brown first shot to fame back in 2005 with the release of his first album, simply called Chris Brown. He has had hits around the globe with songs including Run It, Kiss Kiss, and With You. Chris has regularly been in the media for all the wrong reasons, as well. In 2009, he received five years' probation and six months community service for assaulting Rhianna, who used to be his girlfriend; she had visible signs of facial trauma following the incident. At the time, Chris Brown appeared remorseful, but there have been a number of violent outbursts since that time, culminating with the attack on a fan that ended up with the singer committed to rehab.
Drug addiction was used as a justification for Chris Brown's behaviour, but it is doubtful that this alone would be the cause. Those engaging in domestic violence (as in the case with Rhianna) usually have other issues driving the behaviour. There is little doubt though that drug addiction is exacerbating Chris's problems, and he will not be able to manage his anger while he is still engaging in substance abuse. The family and friends of Chris Brown seem to believe that he does have a drug problem, but he seems to be in denial about this.
Is Sending Chris Brown to Rehab Likely to Be Effective?
Rehab seems to work best when people actually want to be there, but there are plenty of examples of those sentenced to a treatment centre by a court and were able to break free of their addiction. The fact that Chris Brown is in a rehab will give him the space and resources to begin looking at his situation. If he becomes willing to make the most of the opportunity, he can definitely benefit from the experience. One of the benefits of an inpatient programme is that it can really magnify a person's determination to change, as it is such an encouraging and supportive environment.
Of course, the risk is that Chris Brown might just be going through the motions in order to avoid further punishment for his crime. The therapists at a rehab can only provide the resources needed to recover, and there is no way to force clients to make use of these resources; it is easy to fake it by just saying the right things but not making any real effort to change.
If Chris Brown decides to make the most of the next two months in rehab, he should be able to turn his life around. He is learning strategies for managing his anger, which should give him the ability to think before he lashes out. I hope that Chris will also decide to commit to long-term addiction recovery. If he does not make the most of this opportunity, it will probably not be long before he winds up serving a long prison sentence.