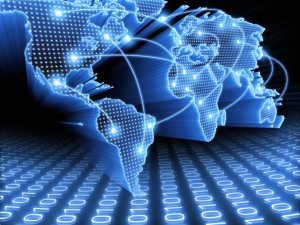 The internet has had a huge impact on the way people communicate and share knowledge. It is now possible to find out anything you want by typing in the right keywords into a search engine – and most of this information is free. The internet has also made it possible to communicate with people around the world, meaning you will be able to receive support in your addiction recovery efforts at any time of the day or night.
It is important to keep in mind that as well as the many benefits of the internet, there are some potential drawbacks also. One thing you need to be careful of is internet addiction. Individuals breaking free of alcohol or drugs are at risk of turning to new addictions, so you do need to be careful and not spend too much time online. It is also vital that you understand that not everything you read online will be facts and truths, and there are some bad people out there who may try to scam you or treat you nastily (for example, internet bullies).
Below are just 12 ways in which you can use the internet to help strengthen your recovery.
1. Join an Online Fellowship
It is not recommended that you replace real-life fellowship meetings with online meetings, but these can certainly be a useful addition to your recovery. Most of the 12-step groups have online meetings, and you can find options such as SMART Recovery as well. If you live in an isolated area or just cannot fit in a regular meeting, these online fellowships can be an excellent substitute. In order to benefit though, it is important that you actually join in the discussion rather than just lurking (i.e. only ever reading what others people). Many of these meetings happen in real time and make use of technology such as live chat and video calls.
2. Join an Online Recovery Community
Online recovery communities differ from online meetings in that these do not usually involve live chat and they are far less structured. You ask a question or make an observation and wait for others to respond. The nice thing about this option is that you can get many opinions on any problem you might have, and there is no time limit on a discussion. These online communities tend to also attract people from many different backgrounds and all levels of sobriety, so you tend to get a good range of opinions. The one thing you learn from these forums is that there are many paths to recovery, and you do not have to agree with everything a person says in order to benefit from their wisdom.
3. Start Your Own Recovery Blog
You have probably already heard of some of the great benefits of journaling in recovery. This gives you a way to chart your progress, vent your frustrations, and finding that this type of writing often leads to amazing insights. A blog is like a type of journal that you share with others. The benefit of doing this is that it means you can get some feedback and support. There is also the likelihood that by sharing your experiences, you will be helping others, so blogging can be considered a type of service. Committing to this type of activity can help to keep you faithful to your sobriety, while it can also be a nice way to record your journey.
4. Watch YouTube Videos about Recovery
The number of videos on YouTube is mind-boggling – apparently, there is 60 hours of video added every single minute! Of course, most of this content will not be related to addiction recovery, but there is already hundreds of thousands of hours of relevant content to choose from. You could spend the rest of your life watching these sobriety videos and never run out of things to see. Videos can be easier to deal with than written text because you do not have to concentrate so hard. If you are a visual person, you might find that these are the ideal way to learn more about addiction and recovery. There are many educational videos on YouTube dealing with substance abuse, and there are plenty of vlogs (video blogs) about life in sobriety as well.
5. Listen to Some Sobriety Podcasts
The nice thing about podcasts is that you can listen to them while, for example, you are driving in the car, travelling on public transport, in the gym, or when out walking or running. Podcasts can be like amateur radio shows, although there are some that are professionally made. Adding a few of the recovery podcasts to your mp3 players means that you will always have something inspiring to listen to whenever you feel the need.
6. Visit Addiction Information Websites
Almost all the information you could ever want to know about addiction recovery can be found online free of charge. Almost all research is reported – although you may have to pay to have access to the full research – and many quality sites include articles from the leading experts in this field. It is important to be sceptical when reading content online though and you always want to consider the source of the material; however, if you stick to the quality websites, you should be okay. Just keep in mind that there are many opinions about recovery and the consensus is that views and opinions tend to change over time.
7. Use Social Media Such As Twitter to Keep Up with the Latest Recovery News
One aspect of social media websites such as Twitter and Facebook is that you can choose to follow any organisation you are interested in. These groups will usually put out regular updates to let you know about any new research or information related to addiction recovery. This can mean that you are always on top of the latest developments and enjoying the benefit of a wide range of views about sobriety.
8. Add Some Recovery Blogs to Your RSS Aggregator
You can use a news aggregator to turn all the latest posts from your favourite blogs into a magazine type format that you can read online; there are some great apps for doing this on your iPad or other mobile device. This means that every day you will have some interesting material waiting to be read, and you never have to worry about missing a post again.
9. Leave Comments on Recovery Blogs
You can learn a lot from reading blog posts written by others, but to really get the most from this content, it helps if you leave a comment. One way to look at these posts is as a conversation starter, so by leaving a comment you become part of this conversation. It is a great way to make new friends and communities form around some of the most popular blogs.
10. Share Your Recovery Journey in Photographs
Just because you are not interested in writing blog posts or making videos, it does not mean you cannot share your recovery journey online. One interesting way of doing this is to create a photograph journal – it will help to add a few words here and there, but mostly you can tell your story in pictures. Alternatively, you could also do something similar through art or music – the possibilities are endless.
11. Online Recovery Coaching
The availability of options such as Skype means that you can now have a recovery coach that you communicate with mostly online. This means that your coach could be living in any part of the world, so you would not just limited to what is available in your local area. If you have a 12-step sponsor, you might also be able to do at least some of your communicating online.
12. Online Courses
There are now plenty of self-development and recovery-related courses available online. Some of these are free and some you have to pay for. Doing an online course can be a nice way to add some new momentum to your sobriety, and it could even offer a path for you to finding a career in the recovery community.